Instructional DVDs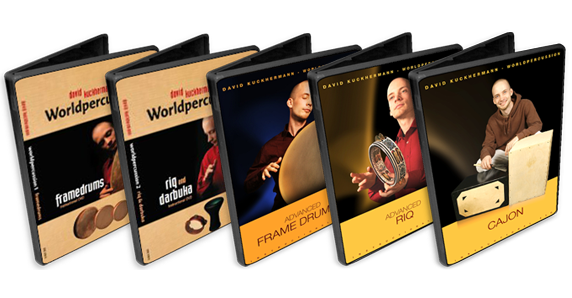 "The best instructional video I have ever seen" – Haruhi Taniguchi
SPECIAL DEALS:
If you buy 2 DVDs and get a $10 discount (you need a paypal account)
Buy 3 DVDs and get 1 additional DVD as download for free.
Buy 5 DVDs and get 7 (2 additional downloads).
Simply order 2, 3 or 5 DVDs, then contact David with the details about your paypal account or which extra DVDs you like. Most DVDs are also available as downloads. After ordering, contact David for a download link, so you don't have to wait for the DVDs to arrive.
I'm stunned! The quality of the teaching and the product is just amazing." – Paul Marshall
"This is in my opinion the most complete work around this unique and magic tambourine for intermediate and advanced players" – Andrea Piccioni
HANDPANS AND SOUND SCULPTURES
The Iranian Daf by Naghmeh Farahmand
All DVDs are country-code free, mixed mode DVDs. Clicking on the "buy from Kunaki" button will bring you to the PAL versions of the DVDs. Cajon 1 and 2, Advanced Frame Drums 1 and 2, Advanced Riq and "Handpans and Sound Sculptures" are also available in NTSC Format. Click here to go to the NTSC order page. Both formats will play on any computer or gaming console, no matter in which area of the world.