Cajon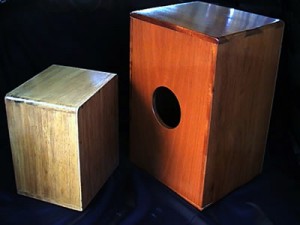 When African Slaves were brought to South-America, they were not allowed to play drums. They started to use simple wooden boxes and shipping crates as substitutes. The Cajon was born. The English translation of the spanish word "Caja" is "box". With time, the Cajon was developed as an instrument, and nowdays many different variations exist. Check out the Comparison Cajon Video at the bottom of the page to get an idea.
It is relatively easy to produce the basic sounds on the Cajon, and the Instrument is getting more and more popular. When you search for Cajon videos on youtube, you will find examples of Flamenco, Peruano, Cuban, Pop, Rock, Acustic and many other musical styles.
Cajon Peruano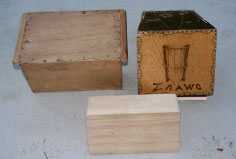 The Cajon plays an important role In the traditional music of Peru and Cuba. The Cajon Peruano doesn't use snares, and has a wooden, very dry sound. A prominent Cajon player from Peru is Alex Acuña. Check out a video of Acuña in the cajon video collection at the bottom of the page.
Alex Acuña playing the Cajon.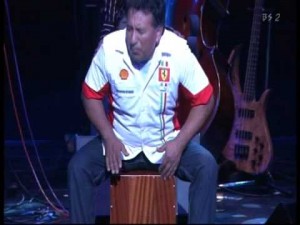 check out this video, a short documentary on the Cajon Peruano (in Spanish):
Cajon Flamenco
in the 1970ies, the Cajon was introduced to Flamenco music by Paco de Lucia. His Percussionist at the time was Ruben Dantas. They added a guitar string to the inside of the playing surface, creating the snare effect.  Nowadays the Cajon is widely used in Flamenco music, with its distinct sound it complements perfectly the sound of the guitar. For more information on the Cajon in flamenco music, go to the Cajon Flamenco page.
Ruben Dantas who introduced the Cajon to Flamenco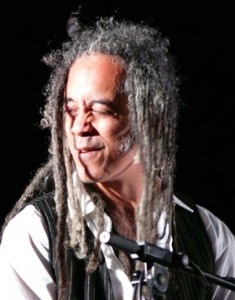 Cajon Cubano
The Cajons that are used in the Afro-Cuban Rumba are often shaped differently than the Peruvian and the Flamenco Cajon. In Shape somewhere between a conga and a cajon, they are held between the knees. The Rumba Yambu is the slowest of the 3 Rumba variations and typically played by three cajon players. Check out the cajon video section for some examples.
"Conga Cajon"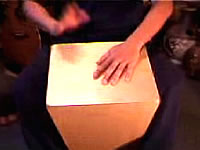 Cajon in Pop Music
Since the snare was introduced to the Cajon, the sound of the instrument became very similar to the sound of a drumset. For this reason many musicians that play popular music and would usually perform with a drumset appreciate the cajon for softer acustic settings. Nowadays you can also find additions to the cajon such as special hihats or jingle sticks and it sounds also great when played with brushes.
Cajon Video Tutorial:
Check out David's instructional DVD on the Cajon. You can watch part of it for free below in the Cajon Video Tutorial.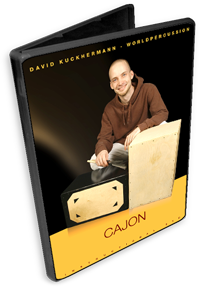 Cajon Video Collection:
Comparison Cajon Video – more than 20 different models
Cajon Video Tutorial
Cajon Peruano Videos
Alex Acuna Solo
Video Demonstration of the Cajon Peruano
http://www.youtube.com/watch?v=KXHZWXVSbq4
Afrocuban Cajon Videos
Rumba de Cajon
Conga Cajons
Flamenco Cajon Videos
Arte Kanela flamenco
http://www.youtube.com/watch?v=hbfYyLhCmcE
Cajon videos in modern settings
David with Mishra
David with Susan Weinert Global Players